Sunday 11th October
The Science and Energetics of Plant Consciousness: Where mythology meets science through the intelligence of plants.
We welcome back David Farrell to talk to us
Talk specific details to follow but here is Davyd's profile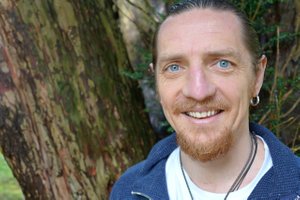 Davyd is the co-Founder of the ground-breaking event, Plant Consciousness in London and the online TV channel WisdomHub.tv. He also co-created the annual event, The Shamanic Lands, now based in Wales with his partner and wife Emma. Together they also run workshops and retreats to take attendees into the inner realms of nature for transformation, healing and consciousness expansion.
Davyd has trained under Western herbalists and plant spirit healers - Carole Guyett for two years and Pam Montgomery for 5 years. He also trained under Kurikindi - a Kichwa elder and amazonian shaman and medicine man in the ways of the forest and energy healing, with a core focus on working with ones own energy and keeping ourselves energetically clean.
An ongoing part of his practice is working with the Yew - tree of Eternity which has been a major part of his path. He has been guided in that ongoing work by Michael Dunning - the Yew shaman.
He has also trained and studied under several other prominent teachers; Sandra Corcoran in the dreaming practices of the Seneca people and Patrick MacManaway in Geomancy and Earth energies He also studied Tibetan Buddhism for 3 years - first in India and then more formally at a semi-monastic centre in Italy where he was fortunate enough to study the entire Lam Rim under Dagri Rinpoche - who is the reincarnation of Serlingpa and holds many lineages in his consciousness stream.
Davyd believes strongly in the need for a return to a more balanced relationship between humans and their home Mother Earth. Through working deeply with plants he feels that its possible for us all to re-establish that connection with our surroundings and in doing so heal both ourselves and the world around us. He calls this The Nature Path.
Members £5 and non members £10.