Saturday 29th January 3pm
Advanced Workshop with 3 PDFs led by Veda Austin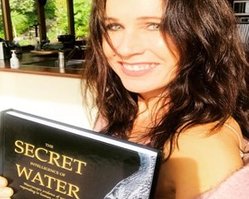 'I'm a NZ water researcher, specialising in macrophotography of consciously informed ice. I've spent 8 and a half years studying the secrets of water, and its incredible ability to respond to influence through intelligent design as it freezes. Over the course of that time, I've fine-tuned the art of photographing ice at a very specific phase of freezing. I call it the 'Stage of Creation'. It's the space between liquid and ice.
During my extensive workshop, I'll walk you through my crystallographic process, which can be so helpful if you are new to my work. One of the most difficult parts of the technique is knowing exactly when the water has divided into two parts. (Informed and uninformed water). I recommend you order a glass petri dish in advance, between 7cm - 10cm diameter (your choice of size). I use 9cm diameter dishes. They come with a glass lid which can be used as a second dish. You'll need a working freezer and a camera (I use my iPhone) If you don't have a petri dish in time, don't worry, you'll learn all you need to by watching me demonstrate.

To add to this, I'll also share my most recent work with Hydroglyphs, of which you will also receive a copy, and also cover my work with 'Water and Dreams'.

If you chose to attend this Zoom Workshop, nearer the date you will receive the Zoom Link, and three PDF documents which cover 'Collective Molecular Photography,' 'Hydroglypths,' and 'Water and Dreams.'

The charge for this Advanced Workshop and 3 PDFs is normally £150 pp but Veda is offering it to our members at the much reduced rate of £20 pp. The booking deadline is Wednesday 26th January.

Members Only - To book please pay £20 into the TVD bank account with the reference "Workshop" and advise Paul and Sue that you have done so.